IMPACT COACHING – TEAM AND LEADERSHIP DEVELOPMENT
To have an impact in the business, leaders take action, invest in their employee development, and have a growth mindset. Are you that kind of leader? Learn how to achieve measurable growth through leadership development coaching, designed to retain top talent and improve business results.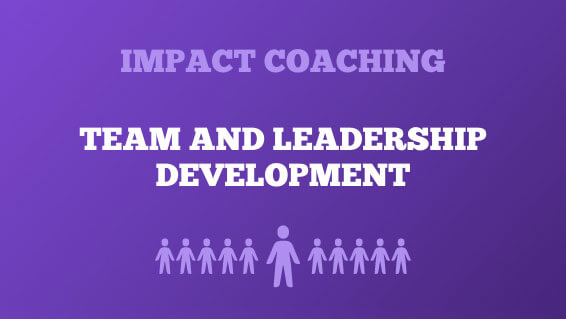 GET YOUR CONSULTATION NOW
Supported through Impact Coaching, your leader applies insights to achieve and report back the impact they are working toward. Teams choose where they can create the greatest impact within their role or department. Your finance team will love the tangible value of the improvements and innovations your team creates.
Impact coaching is designed to:
Achieve measurable impact on business projects, processes, and innovations
Create the conditions for enhanced performance, leadership skills development, and mental fitness
Value Teams' strengths, build expertise and rapidly develop skills
Identify opportunities for deliberate practice, and to apply insights from programs
Retain leaders while rapidly developing their capacity to lead results
Engage in meaningful dialogue in a non-judgemental and safe environment
Teams often see more than 10X returned in small changes in efficiencies or larger innovations to production, process flow, or product.
You want to continue to grow, have an impact on the business, and progress your career forward.
These strength-based, solution-focused 45-minute conversations with an Impact Coach supports Teams to elevate performance, drive impact projects, accelerate innovation, and enhance personal growth development priorities.​ Impact Coaching sessions are available in blocks of 3, 6 or unlimited sessions over a 12-month period. You can choose to participate in leadership coaching individually or with an Accountability Partner.
What's included in leadership development coaching?
Establish a clear vision for your personal growth
Define your long-term career goals (3-5 years)​
Discuss your current strengths and successes​
Analyze Top-3 development priorities and create development plan​
Reflect and adjust your behaviour to achieve your ideal outcomes​
Define and implement your Impact Project (optional)
Choice of Impact Coach and Accountability Partner​
Access to monthly BrainTrusts facilitated by an Impact Coach
Why is coaching important?​
Coaching supports performance and leadership development​
Leaders get immediate support on specific challenges and business critical projects. ​
Demonstrates investment in your people​ so you retain and develop key leaders
Further develops and sustains the value of coaching​
Supports leaders in this virtual world by role-modeling coaching behaviors​
Impact focused learning challenges leaders to take ownership drive impact​
Accountability Partners provide guidance and support by rapidly building coaching capacity, and a consistent internal culture of peer coaching without external cost
Common Development Priorities Addressed By Impact Coaching (specific to each participant and may include):
Identify development priorities that support business goals
Achieve measurable impact supported by evidence and reinforced in the teams individual development plans
Create the conditions internally and externally for mental fitness through relatedness, competency, and autonomy to empower all teams
Notice how mindset, thoughts, and emotions influence performance and to channel these emotions into positive performance mindset to achieve outcomes
Identify triggers, resistance and distractions that impede desired performance outcomes, and mental fitness
Offer choice to overcome challenges and encourage the implementation and adoption of new leadership behaviours
Implement tools and strategies from any development program and apply tools to grow
Enhance level of self-awareness through personalized coaching, eliminate blind spots and reflect upon performance